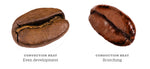 Most people just want their coffee ... and the conversation stops right there. But then the day comes they drink from the grail, and it's a head-turner. Our roasterie uses hot air -- at different levels over three different phases of time -- to precisely ramp the sugars in the coffee cherries to the most delicious point possible.
About 98% of all coffee is drum roasted. And while technology has advanced, air roasters have inherent characteristics that make a big difference. Drum roasting or conductive will cook the bean from the surface area inward. Air roasting (convection) cooks the bean from the inside out. This process rarely scorches beans on the outside, and it maximizes all the flavor from the inside creating a full-flavored brew. In a word, developed.
Air-roasted coffee holds unique flavor notes that are rich, bright and nuanced. Roasted expertly, it veers from flat and ashy flavors that trend with drum roasting. This is not to say all drum-roasted beans hold that criticism, but they are prone to.
We're proud to be one of the few coffee companies in America to produce air-roasted coffee. It is more difficult to control, but we believe it tastes better.
The beans are suspended in a hot-air vortex while a very thin skin called chaff comes off the bean. Most drum roasters trap that very flammable chaff which quickly smokes as it comes off the bean. Air roasters, by contrast, blow that chaff up and away into a vacuum giving no time for the chaff to smoke and therefore trapping your roast in the carbon burnoff.
All smoke contains carbon monoxide, carbon dioxide and particulate matter (soot). Smokey, bitter beans that mask the natural flavor of coffee vs that of nut-caramel aroma and flavor by air-roasted beans will always be a matter of choice.
Farmers went to great lengths to hand-pick, sort, wash and ferment the beans to a level of established excellence. At Elevated Roast, we aren't going to stand in the way of the flavors that were intended.